Continuing the discussion from UP Studio 3 Issues:
Hello All,
New here, installed yesterday the new BETA Studio-3 yesterday.
No problems (yet), and very impressed with the version 3.0.11options.
Great work from the UP!-developpers.
I am a long time UP! user with a UP! MINI V1 and a BOX V1.
Both running great!
I did have some small issues over the years, but nothing unfixable.
Software and printing results only got better.
Next expecting a CETUS V3 to put to good use

Just a few questions:
Is it possible to use the older MINI-V1 and BOX-V1 with this newer software ?
If I look at the printer options this should be no problem,
but before switching I would like to know for sure.
Next to that I noticed a second extruder option.
Is that maybe for future use?
Another setting at the extruder section is scale factor.
Is the purpose of this setting to increase the feed (increase speed of the steppermotor)?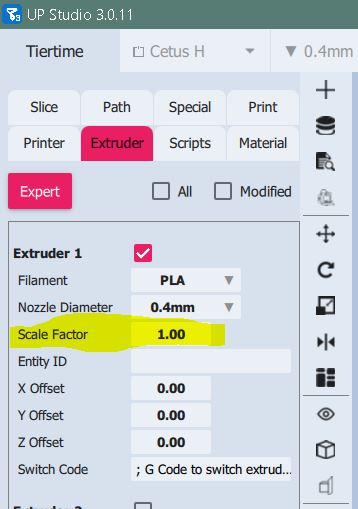 Just curious…
Greetings from the Netherlands.
Chris.
2020-09-28T22:00:00Z