OK, so having problems with a roll of new plastic, open up a brand new pack, stick it in, and get ready to print. Try to print, tells me it's out of filament ( That was quick ! It thinks I got through 1 Kg of plastic in a night. )
Look at the maintenance, discover why I have "no filament" within 20 minutes of refill.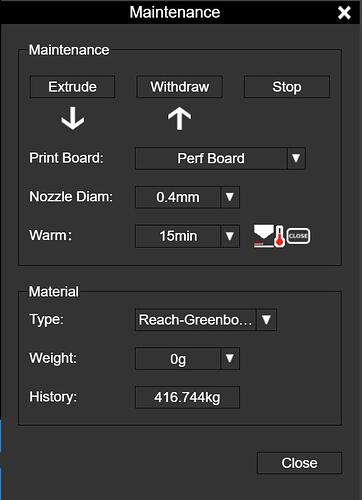 Because I have printed FOUR HUNDRED AND SIXTEEN KILOGRAMS in my UP300 printer…
Hang on a minute… I only bought it six months ago. That means I've been printing THREE ONE KILO ROLLS PER DAY…
Except that I haven't. This latest firmware is destroying my printer value - I've printed about 2 to 3 kilograms on it - Not 400 kg. This will absolutely destroy any resale value.
How do I reset this counter back to something realistic (eg, 2 to 3 kg ) and why does it keep deleting the filament already in there ? Major firmware bug here. Please help -
David.