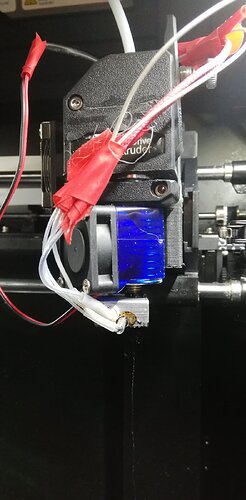 So I was having issues feeding some filaments (flex / carbon fill) either wouldn't feed at all with Flex and carbon filaments needed more clamping pressure. Retraction also caused filament grinding. After disassembly of the Extruder to examine it could see it really only has a set clamping pressure as the idle wheel is fixed in place.
So initially tried a part of thingiverse which worked reasonably well… but then went whole hog and made this with a BMG clone extruder, custom clamp and tried to use the UPBOX heater element components but it wouldn't feed reliably as filament was too hot and soft going into the UPBOX heater throat. (this is why the BMG was cut across the bottom to try and use the original parts). Change the heater block completley but re-used the upbox parts in the end and now it works great. Note the UPBOX uses PTC thermistors (resistance increase with temp)… i tried common aftermarket thermistor but the are NTC type and it read 320 degrees at ambient LOL!.
Theres a few things you need to do like reverse the stepper motor direction (can be done easily by swapping two wires at connector end to head PCB), scale the flow up significantly as the BMG has a ratio of 3:1. chane fans around a bit. But it works a treat and if people are interested can put up more info. Ideally you need to use the CURA mod ive done (files are on this forum and allow CURA to generate fully compatible GCODE for the UP which can be transferred using UP Studio) as its the only way to alter flow etc significantly since there is no access to the firmware.