Vbgoby 2017-4-8 08:21 edit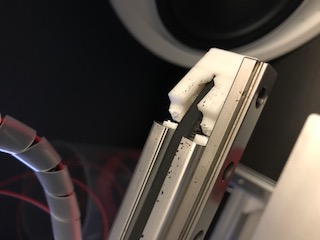 IMG_6614.JPG
IMG_6613.JPG
IMG_6612.JPG
I was excited to receive my printer today after waiting 3 weeks.

It was complaining about a memory error and after investigating, found that my unit did not come with an SD card.  Is this supposed to ship with memory?
After adding my own SD card, it started printing.  I noticed fine black dust collecting on the build plate.  It was my belt.  I didn't know my spring loaded belt holder was broken and bent, and rubbed away at the belt as it was printing.
I also noticed a small ding around the same spot as the broken holder.  Manufacturing defect or shipping abuse?
Are you guys experiencing the same issues on your orders and how are you fixing them?